OKI-FORT offers a complete range of fiber optic cables, from Indoor, Duct grade to Outdoor.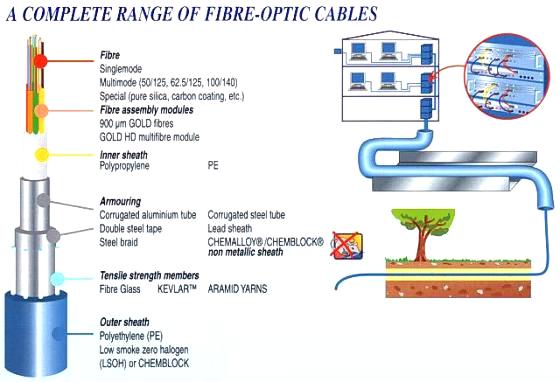 Key Features
Moisture Protection without Jelly Fill-In Compound

UV Cured Hermetic Coating HF™
Water-Proof 900µm or 2.8 mm sheath
Polypropylene inner sheath
Possibility of incorporating a water-absorbent tape for highly exposed cables
Cable Armouring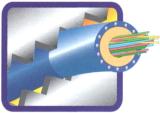 For Outdoor cables, OKI-FORT offers various options for metallic and non-metallic armoured cables:
Corrugated steel tube, corrugated aluminum tube, double steel tape and Lead sheath
It's unique non-metallic armoured cable (CHEMALLOY® + fiber glass) not only offer added protection from lightning strike, but also offer cost reduction and ease of installation as no grounding is required.
Peripheral Strength Members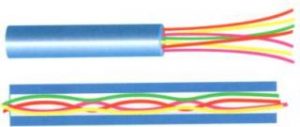 All OKI-FORT outdoor cables are fitted with fiber glass or Aramid Strength members between the inner sheath and the cable's outer jacket.
No need to free the central strength members to pull the cable
Very easy cable termination
Cable Jacket with high mechanical strength
Easy installation of the cable by pull the outer jacket
Crushing Protection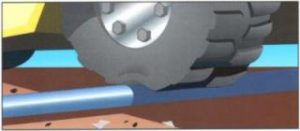 All OKI-FORT outdoor cables have at least two polymer sheaths. The polypropylene inner sheath provides additional crushing strength.
Loose Tube Construction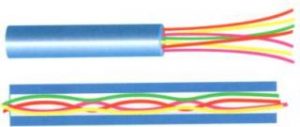 The fibers are independent of the cable jacket
Fibers are assembled in cable with excess length, therefore, the cable can withstand sheath elongation without stress on the fiber
No risk of damaging fibers during cable installation
Easy to prepare and strip
Outer Sheath

Indoor cables: Low Smoke Zero Halogen Jacket
(BS 6425,VDE 0207, NFC 32-062)
Fire-resistant (IEC 332 Part 1, NFC 32-070)
PVC sheath – Does not propagate flame (UL 1666)
Outdoor cables: UV stabilized polyethylene jacket
Hydrocarbon resistant PVC jacket