The Hirschmann microprocessor-controlled RackMonitoringSystem monitors your rack system using a range of sensors. Ambient temperature, atmospheric humidity and fluctuation in main voltage can all be measured on site. Digital inputs for door contacts, vibration sensors and smoke alarm complete the range of options offered by RMS system.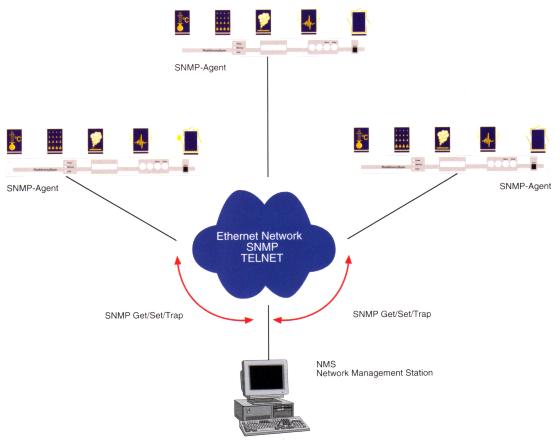 The System has the capability for continuously monitoring ambient conditions and data on operational status in the rack, evaluating statistical information and adjusting parameters. Link-ups between input and output parameters are possible using flexible, programmable filter system. The rack monitoring system can also inform users above events in the rack. Signals are transmitted over the LC display and a buzzer, through a serial interface or over the network. Digital outputs are also available for regulation fans or heaters.
Key Benefits
Wide range of connectors for sensors and external equipment integrated in the unit, inclusive of all necessary power supplies
The following interfaces are available on each unit:
4 x temperature, 4 x humidity, 4 x alarm line (e.g. smoke), 8 x digital inputs (e.g. door contact), 3 x main voltage, 2 x digital inputs for UPS, 2 x serial interface (e.g. UPS, air-conditioner or access control)
Programmable filer system permitting individual link-ups between inputs and outputs of the RMS, i.e. the unit allows hardware to be tailored to customer requirements with appropriate selection of sensors and also permits individual logic settings to realize the desire alarms and switching of digital outputs
Updateable system software for the RMS; i.e. the unit can be updated over the network using the TFTP standard protocol (even during operation); this safeguards the investment in hardware when software changes in the future
Support for standard communications protocols with the RMS systems. Support configuration with:serial interface (VT100 terminal), network interface (telnet, SNMP). The device can be accessed using the standard software, e.g. a terminal program and network management software.