Underpinning trends in automation technology and process control is a move towards open, transparent system solutions. These rely increasingly on PC control with either intranet or internet access. The most important standards are TCP/IP communications protocols and Ethernet network structures. Many controllers, PLCs and Distributed Controller systems (DCS) already have an Ethernet interface. Organizations and companies are currently working on ways to make existing fieldbus protocols comply with TCP/IP protocols and to equip field devices directly with an Ethernet interface.
Although the Ethernet standard used in automation technology is the same as that used in offices, the requirements for network products are considerably different. In day-to-day industrial applications, networks are expected to work reliably under extreme conditions, such as electromagnetic interference, high operating temperatures and mechanical loads.
The Hirschmann Industrial Line Ethernet Rail Family of products was specifically designed for use in industrial automation applications taking all these requirements into consideration.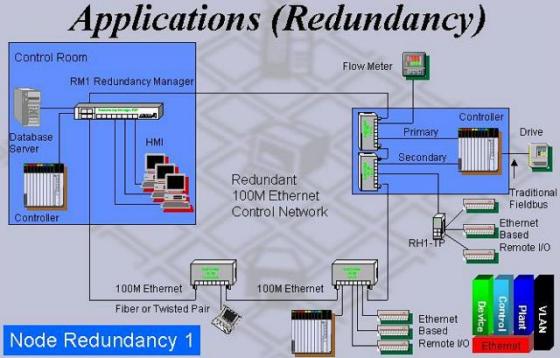 Key Benefits
Redundant "Ethernet Ring" which ensures continual production operations even while the network is being reconfigured, maintained and expanded.
Up to 50 devices, each up to 40 km apart, may be connected in a redundant Ethernet fiber optic ring.
Plug and play, no programming is require when adding or removing devices.
Fault detection and auto-reconfigured in a matter of milliseconds, considerably faster than the 'spanning tree' algorithm.
High temperature range, permitting new fields of applications.
Quick assembly (the rugged devices are simply mounted on a standard DIN Rail)
Dual redundant power supply input. Automatic switch over to standby power supply when the main supply fails.
For critical application, a double redundant ring may be configured.